Now you can Repair Samsung Galaxy A72 SM-A725F Hardware related problem by Using Samsung Galaxy A72 SM-A725F Schematic Diagram, get the latest Samsung Galaxy A72 A725F schematic diagram or service manual for software and hardware problems solution also you will find the Block Diagram format File PDF you can use this schematic for repair damage by hardware, to identify ways of a block diagram, to make jumper trick, to find the component layout, Schematic, And Block Diagram, Troubleshooting, Service Manual.
To every professional or novice who loves mobile phone maintenance, we offer on our website gsmsolve a collection of important schematic diagrams that you need, to know the difficult fault paths that no one knows except for those who know how to read the schematic diagram and know how to fix the faults.
About Galaxy A72 SM-A725F
Steady & Bright ShotsNo more blurry or shaky content. OIS (Optical Image Stabilization) keeps motion and stills steady, pulling in more light to brighten up darker shots.
Impressive Ultra Wide CameraGet eye-like 123˚ vision with a 12MP Ultra Wide Camera, crop down with a 12MP Wide Angle Camera or zoom in on a 3x optical zoom 8MP Telephoto Camera
Awesome screen, real smooth scrollingSupersize with a 6.7-inch Infinity-O Display. Witness the FHD+ Super AMOLED display in bright daylight, lowered blue light and Real Smooth viewing.*
IP67-Rated Water ResistantIP67 rated and up to 1.0 meter water resistant for up to 30 minutes.**
Detailed Macro CameraGet in close with the 5MP Macro Camera for an ultra-fine picture and a natural bokeh to make subjects stands out.
Long-lasting BatteryA 5,000mAh battery to do more of what you love, AI power usage management for long-lasting power and up to 25W of Super
Fast Charging.***
Awesome PerformanceA big boost in performance thanks to an advanced Octa-core processor and up to 6GB/8GB of RAM. Store more and delete less with 128GB/256GB internal storage, adding up to 1TB with microSD card.****
How do I turn on the Developer Options menu on my Samsung Galaxy device?
The Developer options menu lets you configure system behaviours to improve app performance. The list of developer options will depend on the version of Android that your device is running.
For more information on what each of the developer options does, please visit the official Android Developer site.
On most Android devices the Developer options menu is hidden by default.
To unhide the Developer options menu:1Go to "Settings", then tap "About device" or "About phone".
2Scroll down, then tap "Build number" seven times.
Depending on your device and operating system, you may need to tap "Software information", then tap "Build number" seven times.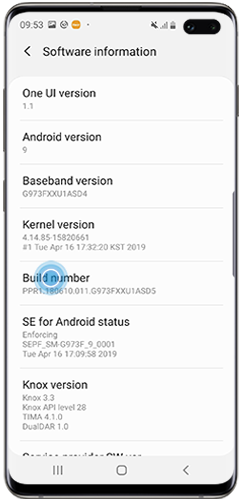 3Enter your pattern, PIN or password to enable the Developer options menu.4The "Developer options" menu will now appear in your Settings menu.
Depending on your device, it may appear under Settings > General > Developer options.
5To disable the Developer options menu, tap the switch.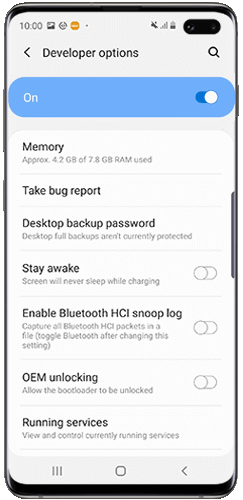 If you're experiencing unusual behaviour on Samsung mobiles, tablets or wearables, you can send us an error report or ask us a question in the Samsung Members app.

This allows us to a closer look at what is happening. The data is anonymised and only held for the duration of the investigation. Find out more about sending an error report through the Samsung Members app.
What to do if your phone is not charging
There are several reasons why your device might not charge, and most can be fixed without any extra support. The most common reasons for a device failing to charge are:
a faulty cable, charger, socket or adapter
dirt or debris in the charging port
third party apps interrupting the charging process
a software update is required
Find out what to do if your tablet is not charging.
If you have determined that your charging cable or plug is not working or needs replacing, you can buy a new one from our accessories page.
You can also book a repair.
he first step is to check to see if the problem is related to your charger or charging cable. 1Are you using an official charger?
Although most phone chargers and charging cables look similar, there can be a huge difference between their quality and charging speed. It is always recommended to use an official Samsung charging cable as these have been specially made for your device and are designed to maximise battery life.
Using an unofficial charger can even cause damage to your phone. Official chargers are designed to have the correct voltage for your device whereas alternative chargers may operate to a different voltage. Check to make sure that you are not using counterfeit accessories.
Find out more about the different types of USB cables.2Check for damage
If you're using an official charger, check to ensure that there isn't any damage to the cable or plug. If you notice any damage, stop using the charger immediately.3Try a different cable and plug
Even if there is no obvious physical damage to the cable or the plug, try using a combination of different cables and plugs to eliminate these as a potential problem. To make sure that your cable / plug works, you can also try using it to charge a different device.4Try a different power source
Clean the charging port
Once you are sure that your cable / plug works, try plugging them in to a different power source. For example, connect the charger to a power socket rather than a laptop or PC.
One of the most common causes of charging problems is the charging port becoming clogged with dirt, dust, or debris. Dirt or lint can build up inside the charging port and prevent the charging cable from engaging properly with the charging contacts inside the port. This can stop your phone from charging properly or prevent it charging at all.
Follow the steps below to clean your charging port:1Power off your device2Shine a torch into the charging port and look inside. If you can see dust or dirt, especially if it is covering the metal charging contacts, the charging port needs cleaning3Try gently blowing into the charging port to remove dust and debris
Please note: do not insert any object into the charging port. This can result in damage to the charging port.4If the charging port is still clogged, take it to a professional to be cleaned
Check for water and moisture
Your device will not charge if it detects water or moisture in the USB port. This is a security measure to protect the device from damage and corrosion. If your device has detected water in the charging port, it will sometimes display a waterdrop icon on the screen above the charging port. If you see the waterdrop icon, make sure that your device is turned off while it dries.
Please note: It is not always obvious when water has entered your phone. Just exposing your phone to a humid environment can cause water to enter the phone, even if there is no visible sign.
Most moisture will evaporate by itself within a few hours, but you can also try blowing gently on the port or exposing it to cool dry air. If the waterdrop icon has still not disappeared but you are sure the charging port is dry, try turning your device off and on again.
If the icon remains after this and your device still has power, clear the cache for USB:1Open Settings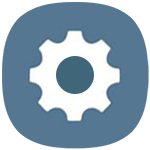 2Tap Apps
3Tap the filter icon
Please note: in older versions of Android "system apps" can be found from the options icon (three vertical dots).
4Tap the switch to show system apps
5Tap OK
6Scroll down, then tap USBSettings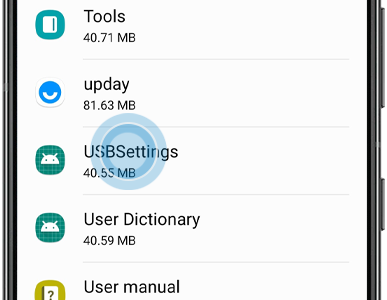 7Tap Storage
8Tap Clear data and Clear cache
Once you've cleared your cache and data, try charging your phone again to see if this has resolved your issue.
For further tips on how to remove water from your phone read our article on what to do if your phone gets wet.
What is a Schematic Diagram?
Circuit diagrams (aka. electrical diagram, elementary diagram, electronic schematic) show how electronic components are connected together. Each component is represented by a symbol, with wire represented by a connector.
What are Hardware Solutions?
Is a collection of visual information in the form of paths, measuring points, value information for comparison, which is very useful for technicians, in their work technicians often need to reference data other than schematics such as reference values ​​from normal machines, and take measurements by frequently opening schematics and PCB layouts.
To read and understand a cellphone schematic diagram, we must have some knowledge about basic electronics like resistors, capacitors, transistors, integrated circuits, etc.
Download Samsung Galaxy A72 SM-A725F Schematic Diagram
Find a list of available content in the Samsung Galaxy A72 SM-A725F Schematics Diagram folder, that is available with the screenshot to download on by one or Samsung SM-A725F schematic diagram.zip file.